OAU Reportedly Sacks Sex For Marks Lecturer
A spokesperson for Obafemi Awolowo University (OAU) Ife had responded to the allegations, saying that was looking at the situation critically. The Vice Chancellor of the school had also spoken up to say the school has zero tolerance for sexual harassment.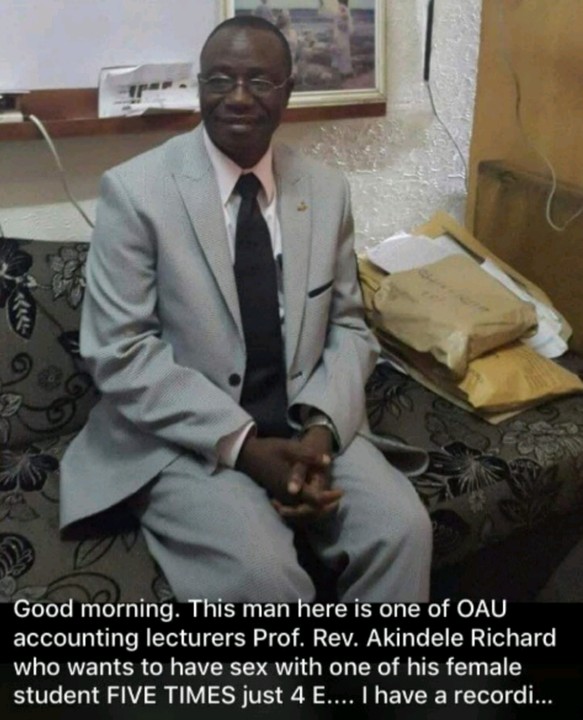 Following the allegations, the Professor had been suspended indefinitely and there were reports that he had also stayed away from the office for months.
Now, according to PUNCH quoting a statement released by the Vice Chancellor, the Professor has been officially dismissed by the school.
A committee set up by the school to investigate the allegations of harassment made the decision to dismiss the Professor for his actions towards the female student based on "their conversation in the audio recording, his reply to the query, the oral evidence and the printed 'WhatsApp conversations' tendered before the committee."
According to PUNCH, the Vice Chancellor said Akindele had acted in a manner that compromised his position as a teacher and examiner.
The vice chancellor said the Senate recommended that Akindele, having been found liable on all the allegations against him, should be dismissed from the services of the university.
" The Council, at its meeting of today, Wednesday, 20th of June, 2018, having considered the recommendation of Senate, as well as the report of the Joint Committee of Council and Senate, decided that Professor Richard I. Akindele should be dismissed from the services of the university for gross misconduct.
" The university has also taken further steps to ensure the total elimination of Sexual Harassment (SH) in the OAU community.
"The university has a legal duty to prevent sexual and gender-based harassment within the institution and ensure that both men and women are protected from this menace; and thereby provide conducive environment for teaching and learning,'' he said.
Ogunbodede said in order to create conducive environment for teaching and learning, the university was creating more awareness and disseminating information on what constitutes sexual harassment within the university.
He said the veracity of sexual harassment concepts includes sexual solicitation and advances, sex exploitation, prostitution, seduction, pimping, sexual assault, unwanted touching, vulgar sexual jokes and rape among others.
Ogunbodede said that OAU was fully committed to the eradication of sexual and other types of harassment from the university and would do all that was possible to nip the menace in the bud.
" OAU has zero tolerance for sexual harassment and as a renowned university will do everything humanly possible to maintain the rules and regulations of the university,'' he said.